Sirius Minerals wins RGF cash for geosciences centre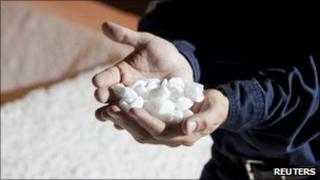 The company behind plans to exploit potash deposits in North Yorkshire has been provisionally awarded £2.8m in government funding.
Sirius Minerals want to develop a major geosciences centre at its York Potash project between Whitby and Scarborough.
It would work on improving advances in mineral exploitation and extraction, the company said.
The money is part of the £950m Regional Growth Fund aimed at stimulating economic growth across England.
'Retain skills'
Chris Fraser, managing director and chief executive officer of the company, said: "This centre will help Sirius to have access to the highly-skilled talent that will be necessary to plan, build and operate our mines of the future.
"This enabling support from the UK Government can help us create and retain these skills in North Yorkshire for the long-term."
Mr Fraser said the centre would work with leading universities and vocational colleges to create a "living laboratory".
Sirius Minerals claimed last month that test drilling between Whitby and Scarborough had revealed some of the best potash deposits in the world.
The potassium compound is used in fertilisers and the UK's only current mine is at Boulby in North Yorkshire.