Harrogate week-long shop window stunt comes to an end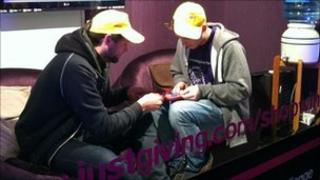 Two men who have spent a week in a shop window in Harrogate hope to have raised at least £10,000 for charity.
Business partners Ben Davis and Jason Odle have been working, sleeping and eating in full view of passers-by. The pair have left only to use the toilet.
They entered the empty shop in Parliament Street in the centre of Harrogate last Sunday. The stunt ends at 18:00 GMT.
Mr Odle, 23, said he was "tired" and the week had been "tough at times".
He and Mr Davis have been sleeping on chairs and washing in a basin behind a screen.
'Grown to like it'
Passers-by have been able to communicate with them through the window using an intercom.
Despite the discomfort, Mr Odle said: "We'd like to do it again, bigger and better."
He even declared that he had "grown to like it" in the confined space.
The pair, who work in advertising, had originally planned to spend time in a see-through box, but when the window space was made available they decided it was the "next best thing".
The men have already raised £8,000 for St Michael's Hospice, a total which they hope to boost through an "after-show" party and auction when their challenge finally ends.
Both Mr Davis and Mr Odle have had experience of family or friends needing the services of the Harrogate hospice, which includes a 10-bed inpatient unit and a day-care centre for 12 patients.