Newby Hall Chippendale table returned after 2007 theft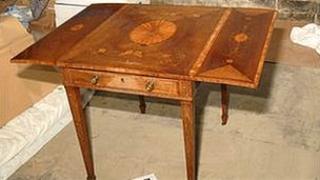 A rare Chippendale table worth about £500,000 has been returned to its owners in North Yorkshire, four years after it was stolen.
The twin-leaf table, which was was specially made for Newby Hall in 1775, was stolen in June 2007.
The table was recovered in a police raid in September after an investigation by the Yorkshire and Humber Regional Organised Crime Unit.
Estate owner Richard Compton said he was "delighted" at the table's return.
'Public loss'
The table was one of 14 antiques, worth an estimated £5m in total, which were uncovered in raids at two residential properties in South and West Yorkshire last month.
Mr Compton said he never expected to see the table back at Newby.
"It has been in our family since 1775 and it's unique," he said.
"I simply don't know why anybody would want to steal such a thing as it's unsaleable on the open market.
"When a piece like this is stolen from a house that is open to the public, the real loss is a public one as it has been seen by hundreds of thousands of visitors."
Another of the recovered antiques, an embellished bracket clock made by Daniel Delander of London in about 1710, is believed to be from Sion Hall near Thirsk, North Yorkshire.
A 68-year-old man from Tankersley, South Yorkshire, and a 44-year-old man from Middleton, Leeds, have been arrested and bailed in connection with the investigation into the recovered antiques.