Illegal food waste 'risked foot and mouth outbreak'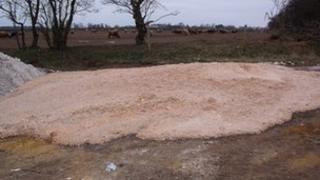 Food waste dumped in North Yorkshire could have caused a new outbreak of foot and mouth disease, according to the Environment Agency.
The agency prosecuted two businesses for transporting and dumping food waste, including meat, to feed animals.
The companies, FD Todd & Sons Ltd and Coast to Coast Recyling Ltd, were fined a total of £35,000 by Harrogate magistrates.
It has been illegal to feed animals meat since 1988.
Food waste from a Malton ready meal plant was taken away by FD Todd & Sons to farms operated by Coast to Coast Recycling Ltd.
Holly Webb, prosecuting, told the court environmental officers had discovered 10 tonnes of waste dumped in a field at Home Farm at Aldwark in North Yorkshire on 2 March.
The food waste included rice, pasta, noodles, pepperoni and luncheon meat.
Sheep were grazing nearby.
'Inaccurate' description
Businesses must have an environmental permit to handle waste and a transfer notice must be completed when waste is moved from one site to another.
The court was told that the waste transfer note for the movement failed to describe the waste accurately.
Ms Webb said the offences had the potential to cause a foot and mouth outbreak and spread other animal diseases.
Laws banning feeding animal protein to some livestock were introduced in 1988 after it was suggested that this kind of feed was responsible for the spread of Bovine Spongiform Encephalopathy (BSE) among cattle.
EU Regulations now prohibit the use of processed animal protein in feed to all livestock.
It is thought the 2001 outbreak of foot and mouth disease was caused by pigs being fed untreated waste that might have contained infected meat.
Nearly 6.5m sheep, cattle and pigs were slaughtered during the crisis.
Coast to Coast Recycling pleaded guilty to one charge of failing to operate a food waste operation in accordance with an environmental permit and was fined £15,000.
FD Todd & Sons was charged with failing to ensure an accurate written description of controlled waste and depositing waste on land that did not have an environmental permit.
The company was fined £20,000.
A third company, Pro-Pak Foods Ltd, which runs the ready meal plant in Malton, was also fined £3,200 for failing to ensure a waste transfer note was completed.