York Minster Great East window's secrets explored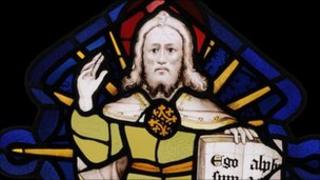 The secrets of the Great East window at York Minster are to be explored in a BBC television documentary.
The window, at 78ft (24m) in height, is the UK's largest medieval stained-glass window.
The 311 individual panels reveal a Christian history of the world, as told in the Bible, from Creation to the Last Judgement.
Often referred to as Britain's Sistine Chapel, the window was created between 1405 and 1408 by John Thornton.
It is one of the earliest pieces of art by a named artist in England.
Britain's Most Fragile Treasure, on BBC Four, follows art historian Dr Janina Ramirez, from the University of Oxford, as she watches the work of the conservation team at York Glaziers Trust.
The trust is undertaking a five-year project to repair and conserve both the window and stonework of York Minster's East Front, supported by a £10m Heritage Lottery Fund (HLF) grant.
As part of the work, the trust has dismantled the entire 600-year-old window.
This has given Dr Ramirez the opportunity to examine the panels to discover more about how the window was originally created and designed.
The programme will also examine what the window can tell the modern world about the medieval mind and world view.
The Very Reverend Keith Jones, Dean of York, said: "To think that not long ago we thought all the great works of European art were in museums or on the walls of churches abroad. Yet we had these amazing glass windows, able to compare with anything.
"At last we are waking up to what we have got and this programme will open our eyes."
Britain's Most Fragile Treasure will be broadcast on BBC Four on 12 October at 21:00 BST and afterwards in the UK on BBC iPlayer.