Kellingley mine death: MP wants inquiry into pit safety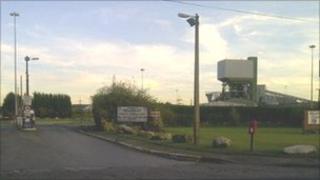 An MP is calling for an inquiry into safety at Kellingley Colliery in North Yorkshire following the death of a miner on Tuesday.
Gerry Gibson was killed and a colleague was injured when a roof collapsed.
Jon Trickett, Labour MP for neighbouring Hemsworth, West Yorkshire, said he wanted an "absolute" reassurance it would not happen again.
UK Coal, which operates Kellingley, said initial investigations had failed to find an obvious cause.
Mr Gibson, a father-of-two from Sherburn-in-Elmet, North Yorkshire, is the third miner to be killed at Kellingley in the last four years.
Ian Cameron died after equipment fell on him on 18 October 2009 and in September 2008, Don Cook died in a rock fall.
Mr Trickett said: "We want an inquiry and it has to be independent, and not just an inquiry into this single incident because the context was the previous incidents.
"I want to know they're not linked in some way with some sort of problem with the culture, with the investment or because of geological problems."
He added any inquiry should be totally independent so that everyone could have "confidence" in its findings.
'Catastrophic failure'
The National Union of Mineworkers (NUM), said Kellingley would not reopen until there were some answers to Tuesday's incident.
Chris Kitchen, national and Yorkshire area secretary for the NUM, said: "There will be no production at this pit until we find out why the roof failed."
He added: "Mining has got difficult conditions but this section of the coal face didn't give any warning signs that it was going to catastrophically fail like it did."
UK Coal said early investigations had revealed no problems with the coal seam or the equipment, which the company said was new.
It said the area of the incident was still sealed off, but some miners were doing "basic work" in other parts of the mine.
Andrew McIntosh, communications director with UK Coal, said: "Those who work here know how hard we push health and safety.
"Everyone understands this is a hazardous place to work, in the mines, which is why it is down to all of us to ensure we work as safely as possible."
Investigations into the cause of the roof collapse by the Health and Safety Executive and North Yorkshire Police are continuing.