Kellingley pit death: Miner named as Gerry Gibson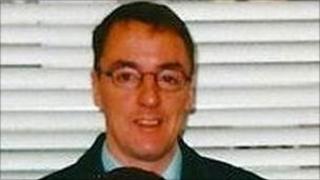 A miner who died when a roof collapsed at a North Yorkshire pit has been named by UK Coal as 49-year-old father-of-two Gerry Gibson.
Two men were trapped by falling debris at Kellingley colliery on Tuesday.
Mr Gibson, of Sherburn-in-Elmet, North Yorkshire, who died at the scene, was described as "a highly skilled and well-respected coal face worker".
An investigation is being carried out into the incident by police and the Health and Safety Executive.
In a joint statement, UK Coal and the National Union of Mineworkers (NUM) said Mr Gibson was a married father of two and had worked in the mining industry since 1979.
Andrew Mackintosh, UK Coal's communications director, said: "It's been a huge loss.
"It hits an industry like coal mining far harder, I suspect, than many industries because of that close-knit approach.
"Gerry was a family man with a wife and two children and obviously our thoughts are with them at the moment."
Chris Kitchen, from the NUM, said: "Mr Gibson was an integral part of this mine.
"He was well-respected by the team he worked with and by his other colleagues on other shifts.
"Everyone's devastated by what happened."
Mr Kitchen said NUM officials had been in touch with the family of Mr Gibson.
'At a loss'
He said: "Obviously words are of little comfort when you've lost a loved one."
Another man, whose name has not been released, suffered minor injuries and was now recovering at home, the company said.
Tuesday's incident is the third death at Kellingley colliery in three years.
UK Coal, the company which runs the pit, said earlier it was "at a loss" to explain the cause.
Andrew Mackintosh, UK Coal's communications director, said the initial inquiry had shown no problems with the coal seam or the equipment, which he said was almost brand new, costing millions of pounds.
Mr Mackintosh said investigators had been in the pit overnight and a full-scale inquiry was under way.
No shifts are working at the colliery as a mark of respect and to allow investigations to be carried out.
Delegates at the Labour Party conference in Liverpool paid tributes to the two miners.
Shadow Home Secretary Yvette Cooper, whose constituency borders the colliery site, told the conference: "All of our thoughts are with their families today."