Kellingley miner death: Community 'deeply saddened'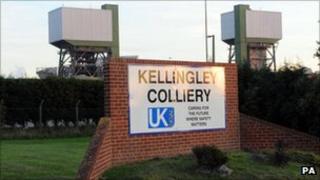 "When you grow up in a mining family any accident of course has a resonance," said Selby and Ainsty MP Nigel Adams.
On Tuesday, Mr Adams' North Yorkshire constituency saw the third death at the Kellingley Colliery since 2008, when miner Gerry Gibson, 49, was trapped by falling debris.
Mr Adams said the incident would "devastate" the tight-knit mining community.
The MP's uncle had worked at the coal mine for 20 years.
"There is a real bond within the mining community," Mr Adams added.
"Both amongst the workforce, who are extraordinarily skilled and tough men, and the families that support them."
The Kellingley mine lies on the border of North and West Yorkshire - a mile and a half outside of Knottingley - and is one of Britain's deepest remaining coal mines.
The two 2,600ft (800m) shafts were sunk in the late-1950s but production did not begin there until 1965.
Kellingley, known by miners as "The Big K", has been a major coal producer ever since and at its height employed about 2,000 people.
Underground explosion
Today, the mine is operated by UK Coal and has 800 employees.
In recent years the pit has seen a number of accidents.
In November 2010, 200 workers had to be evacuated from the mine after a methane explosion underground.
Carol Cameron, whose husband Ian died after equipment fell on him at Kellingley in October 2009, said it was "awful" that another accident had happened.
"I've hardly slept all night thinking. I know what that poor family feels like," she said.
"I was told that when all this health and safety business was going to get sorted, it would hopefully prevent this happening again and it hasn't.
"It should be shut down. How many other men are going to get killed down there?"
Betty Cook, whose son Don died in a rock fall at Kellingley in 2008, said she felt mine privatisation meant "profits are put before people".
"My tears have flowed all night not only for Donny but for what happened last night," she said.
"We've lost three miners in three years at the same colliery. I think something needs to be looked into."
'Deeply saddened'
Neighbouring MP Yvette Cooper said the death of Mr Gibson had left people in the area "really distressed" and "deeply saddened".
"Everybody can identify with this and everybody feels the strong sense of both solidarity and deep shock and concern," the MP for Pontefract and Castleford said.
Ken Capstick, former vice-president of the National Union of Mineworkers (NUM), said what had happened was "dreadful".
In a message to the dead miner's family, he said: "We are all with you. We are all feeling your pain.
"No words can help at this stage, we know that, but we will be with you."
Chris Kitchen, Yorkshire area secretary for the NUM, said the whole workforce was "devastated" and said production at the colliery had been halted as a mark of respect.
Earlier this month, four men died when a Swansea Valley colliery flooded, trapping them.
"It's definitely knocked some confidence," Mr Kitchen added.
"Miners are a hardy breed and mining's always a dangerous job and they accept the risks.
"But when things go tragically wrong like this, it knocks people's confidence for six."
The Bishop of Wakefield, the Right Reverend Stephen Platten, has said St Edmunds Church at Kellington, the nearest church to the pit, will be open all day on Thursday.
Bishop Platten said: "My prayers and condolences are with all who are affected by this accident, particularly those who have suffered the loss of a loved one.
"The Church will be doing all it can to support the communities and people affected."