York development plan aims for 16,000 homes over 20 years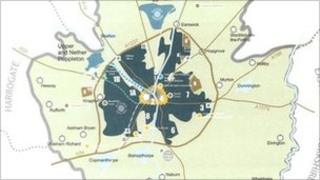 About 16,000 homes could be built in York over the next 20 years, according to a proposed development plan.
The Labour-controlled council is aiming to deliver 800 new homes and create 1,000 new jobs each year for the next two decades.
The Local Development Framework (LDF) sets out which parts of the city are available for development.
The plan will go out to public consultation before being submitted to the Planning Inspectorate.
If the plan is adopted, it will also establish a formal green belt for the city for the first time.
Councillor Dave Merrett, cabinet member for city strategy, said the plan was ambitious and he admitted the jobs target might be hard to achieve in the short-term.
He said: "We will struggle to deliver that rate of jobs but it does match the average we were achieving in the city before the recession."
The authority believes it can deliver 800 new homes a year using existing brownfield sites.
The LDF proposes to transform the former British Sugar site into a new residential district, with nearly 1,300 homes.
There would also be new sports, leisure, health, education and community facilities.
York Central, which comprises land close to the railway station, has been earmarked as a new business and retail district.
The plan also includes proposals to protect the historic core of the city centre.
The public consultation on the plans runs until 7 November.