Selina Scott opposes Malton supermarket plans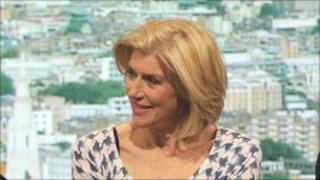 Broadcaster Selina Scott has urged a council to rethink plans which could lead to a new supermarket.
Ryedale District Council approved the sale of Wentworth Street Car Park in Malton, North Yorkshire, last year.
The authority expects a planning application from a developer within the next few months.
Ms Scott, who lives near Malton, said the authority should instead look at redeveloping the old livestock market and retaining independent retailers.
Ms Scott, who grew up in the town, described Malton as a "jewel" with a long-history and more than a 100 independent retailers.
She said: "Wherever there is a supermarket in the middle of a town it kills off every independent trader nearby. The district council, it seems to me, hasn't given a single thought to what the people of Malton want."
'Big Society'
Ryedale District Council insists the sale of the Wentworth Street site would generate jobs and benefit the town.
It has not been confirmed which supermarket chain might be interested in acquiring the site.
However, a neighbourhood plan for Malton, developed by the town councils for both Malton and neighbouring Norton, strongly rejected allowing the site to become a supermarket.
The plan, based on a local consultation held earlier this year, called instead for the redevelopment of the livestock market.
Ms Scott said the plan was a prime example of the Big Society in action.
"People in the town want to see, not a superstore, but a smaller food outlet with three new retail outlets linked organically to the market place which will help to improve the market centre," she added.
Campaigners, including Ms Scott, now plan to ask the Secretary of State for Communities, Eric Pickles, to intervene in any planning application for a supermarket on the Wentworth Street site.