Infant pygmy goats stolen from Easingwold Maize Maze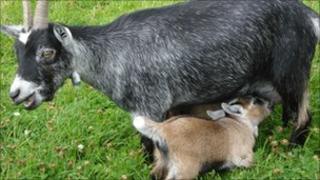 Three pygmy goats have been stolen from a North Yorkshire tourist attraction.
The goats, born on 6 August, were taken from their mother at Easingwold Maize Maze, between York and Thirsk, on Sunday 4 September.
The owner of the attraction, Paul Caygill, said the animals could not survive without being fed by their mother.
North Yorkshire police described the theft as a "thoughtless crime" and said the goats must be returned.
The maze is created each year by Mr Caygill, who farms locally, and is open to the public for six weeks during the summer.
Mr Caygill said: "This is a very desperate and sad situation. The goats have been stolen from their mother from whom they are still feeding and if they are not fed soon they will die."
North Yorkshire Police said the animals would be extremely hungry and needed to be returned so they could be cared for in the correct environment.