Allerton Quarry incinerator critics urge inquiry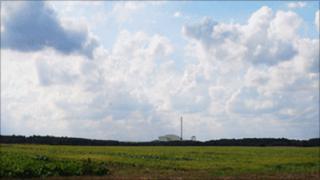 A group opposed to plans to build a waste-to-energy incinerator in North Yorkshire is urging a public inquiry.
An application for the plant, at Allerton Quarry between York and Harrogate, was submitted on Thursday.
Amey Cespa, the company behind the scheme, said it could generate enough electricity to power 40,000 homes.
The North Yorkshire Waste Action group said the plans to build the plant in open countryside were "plain madness" and a public inquiry should be held.
Amey Cespa was awarded a 25-year contract, worth £900m, to build and manage the plant by North Yorkshire County Council and the City of York Council last year.
The plant would be built using £65m of private finance initiative funding.
Opponents claim the proposals are an expensive way of diverting household waste from landfill and would have a detrimental effect on the local environment.
'End-to-end solution'
Bill Jarvis, project director with Amey Cespa, said: "The new facility will make the most of people's everyday rubbish, ensuring as much is recycled as possible, as well as generating renewable energy and creating electricity from waste."
He added: "This is the most up-to-date, cost-effective and end-to-end solution to deal with North Yorkshire's waste."
Steve Wright, chairman of North Yorkshire Waste Action, said: "They want to build this incinerator in the open countryside.
"Trucking waste from all corners of North Yorkshire to Allerton will mean an extra 50,000 lorries on local roads. It is plain madness."
Mr Wright said he was confident the government could be persuaded the application should be determined at a public inquiry.
The planning authority is expected to take up to nine months to consider the application. The company hopes the plant would be in operation by 2015.