US operation to help Willow Emmison-Neal walk unaided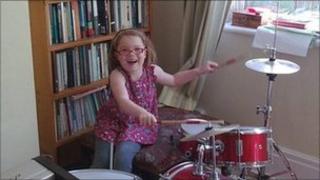 The family of a seven-year-old girl from North Yorkshire are trying to raise £60,000 for an operation to help her walk unaided.
Willow Emmison-Neal, from Selby, has a form of cerebral palsy and requires a walking frame or crutches to walk.
Her family want her to have specialist surgery, selective dorsal rhizotomy, in the United States next year.
Although the surgery has been performed in the UK it is not available to all children who might benefit.
'Tired very quickly'
Willow Emmison-Neal was born six weeks premature and diagnosed with spastic diplegia when she was one.
She said: "All of the other boys and girls can walk without things to help them. I just want to be the same."
Her mother Sally said: "Willow currently walks with a frame or sometimes with crutches.
"She struggles walking on her own over any distance and gets tired very quickly.
"She also has to wear splints which are very uncomfortable a lot of the time."
Mrs Emmison-Neal said they had learnt about the surgery from a family whose daughter had gone through the procedure.
Fundraising appeal
She said: "The operation cuts the nerves that carry the messages to the leg muscles that keep them tight."
The family were told by the American clinic, St Louis Children's Hospital in Missouri, that Willow was an ideal candidate for the operation.
The operation and after care will cost about £60,000.
Although the operation is available in Britain, Willow cannot currently be offered treatment.
The family have now started their own fundraising appeal, Willow's Wish, and have organised a number of events to help raise money.
Willow's mother said: "Willow joins in with everything as best she can and we've been really fortunate to be surrounded by people who've helped us achieve that.
"Just for Willow's life to be made easier, to be able to wear the sandals she sees in the shops and not have sore feet all the time would be wonderful."
The family have already raised £17,000 and hope to reach their target by March 2012 when the operation is due to take place.