Yorkshire charity funds 'ground-breaking' cancer study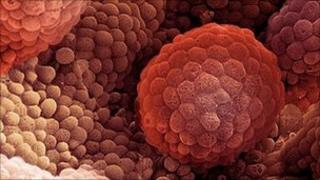 A cancer charity has given £2.15m to the University of York to fund prostate cancer stem cell research.
Scientists at the university will explore the molecular properties that allow the cells to survive, spread and resist treatment.
They aim to make a new generation of cancer drugs to target the cells and tackle the cause of the disease.
Yorkshire Cancer Research, which has awarded the funding, described the research as "ground-breaking".
The scientists are led by cancer specialist Professor Norman Maitland, who has been researching cancer stem cells for more than 10 years.
The charity's science liaison officer Dr Kathryn Scott said: "Professor Maitland is recognised as a world leader in prostate cancer stem cell research and Yorkshire Cancer Research is immensely proud to support this ground-breaking work.
"Professor Maitland's laboratory remains the leading lab in the world capable of reliably isolating these cells directly from prostate cancer patients and this has led to exciting discoveries about what makes these cells different.
"Ultimately, these findings will result in new therapies to target these persistent cells."
Professor Maitland said his team would look at the DNA sequence of prostate cancer stem cells to determine for the first time what is missing from the sequence.
He said: "We will also further develop our laboratory models of prostate cancer to test current and new treatments including radiation and drugs on cancer stem cells.
"Using these methods we hope to identify survival mechanisms of the cancer stem cells so we can develop a new generation of treatments to undermine and kill them."