War veterans 'need more support'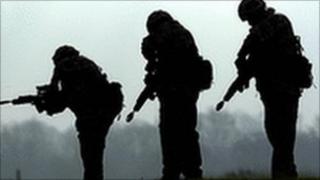 The wife of an Iraq veteran has urged the government to give more support to families of traumatised soldiers after she was attacked by her husband.
Linda Adams, of Bedale, North Yorkshire, said her husband Dave suffered Post Traumatic Stress Disorder but received no psychiatric help.
He is serving a two-year community order after admitting assault.
The Ministry of Defence (MoD) said the mental health of armed forces personnel and veterans was "a top priority".
Mrs Adams said her 51-year-old husband had served with the Royal Logistics Corps in several war zones but his behaviour changed after a tour of Iraq in 2004.
'Fall through net'
"Some of the things he has seen there he couldn't talk about," she said. "I do get the sense it was really mega-unpleasant, they were just so graphic.
"I can start to understand now why it has made him the way he is. They're supposed to get debriefed but he didn't.
"I know the odd one or two can fall through the net, but it's happening to too many.
"There has got to be a better back-up system, so if there is anybody that falls through the net there is something else that can follow it up."
Her husband is currently undergoing psychiatric treatment as part of the sentence he received at Teesside Crown Court in April for assault.
But Mrs Adams said he could have got help earlier if officials had heeded her warnings.
Latest figures show almost 4,000 service men and women - 2% of the armed forces - were diagnosed with mental health problems last year alone.
'Load of rubbish'
Mrs Adams said: "I feel really annoyed with the government and the Ministry of Defence because I have tried to get help and their attitude was 'Sorry, you're not the one with the problem, he's the one with the problem, he has to come to ask for it'.
"What a load of rubbish, I'm the one with the problem. We've given 20-plus years to the Army. They should listen to wives."
The MoD said in a statement: "The Strategic Defence and Security Review committed an additional £20m per year for the provision of healthcare, part of which will be used to deliver enhanced military mental healthcare services.
"The prime minister asked Dr Andrew Murrison to examine ways to improve health services for both current personnel and veterans and we are working with the Department of Health and others to implement the recommendations he has made, which will provide much better and much wider mental health support."