Moaners gear up for 'Grump' competition in Scalby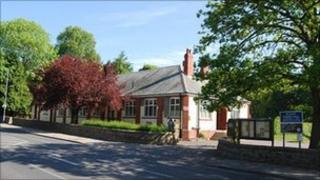 Moaners from across Yorkshire are preparing to battle it out at the annual "Grump" competition.
The contest has been held for the past three years at the village of Scalby, near Scarborough, in North Yorkshire.
Participants are invited to moan for one minute during the knock-out rounds, with their rants judged based on the laughs and cheers of the audience.
The winning moaner receives a special trophy and the honour of being the grumpiest person in the community.
The competition takes place at the community hall during the village's annual produce show on Sunday.
Kate Carnegie, one of the organisers, said the contest started when a local resident offered to provide a trophy.
She said: "The village is full of superb grumblers and I want to stop them doing it in private and get them out into the open."
'Legal and decent'
Contestants receive points for each "grump" and witticism as well as the number of cheers and laughs they get.
Ms Carnegie said: "Grumps have to be legal and decent and we don't encourage swearing.
"If anyone dries up mid-grump then they also lose a point."
Rita Leeman, a past winner of the competition, said: "We all like a good moan and I can keep going on various subjects for quite a long time."
Mrs Leeman said her grumbles were usually sparked by something she had seen or read.
Currently front-facing pushchairs are in her firing line.
"I have for a very long time campaigned against them. I loathe them, where is the communication with the child?
"You just see mums behind just texting or chatting - there's no communication."
Ms Carnegie said the competition was always great entertainment.
"We all know that a good grumble really makes you feel so much better."