Charter Day celebrations for York announced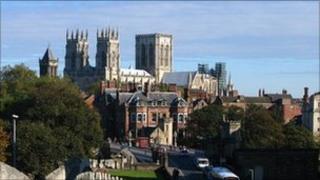 A year of celebrations are being planned to mark the 800th anniversary of York gaining the right to govern itself.
King John granted the city a Royal Charter, enabling the city to elect a mayor and council, on 9 July 1212.
The city council has announced a range of events including festivals and drama performances to run throughout 2012.
The public are also being asked to contribute their ideas on how else the city should mark the occasion.
Before the charter was signed York was under the direct control of the crown and had little say in how it was governed.
'Feel proud'
Organisers of the York 800 celebrations said it was important to mark an occasion that gave the city a level of independence.
Gill Cooper, head of arts and culture at City of York Council, said: "We want to create a year of events that will make people feel proud of York's past, celebrate its present, and embrace its the future.
"Charter Day 1212 gave people in York a voice for the first time and we want to make sure that that voice is heard loud and clear as part of the city's 2012 celebrations."
Celebrations will begin in January and run until the end of the year but the main focus will be the weekend of 7 to 9 July 2012.
Key highlights will include a major music event on Charter Day, 9 July 2012, involving community choirs performing a specially-composed piece.
The Mystery Plays will also run throughout August and annual festivals, including the Viking Festival and Illuminating York, will all have a York 800 theme.