New £1.5m lifeboat for Scarborough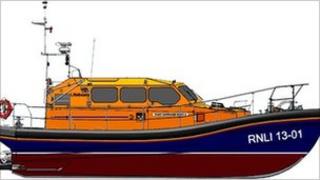 Scarborough will be one of the first lifeboat stations in the country to receive a new class of RNLI boat.
The Shannon class boat will cost £1.5m and will replace the current Mersey class lifeboat in about three years' time.
The boat is being funded by a legacy from the former chairman of Scarborough coach building firm Plaxton.
The Shannon is undergoing sea trials this year and is due to go into service in late 2013.
Colin Lawson, Scarborough RNLI lifeboat operations manager, said it was thrilled to hear it would be one of the first stations in the country to operate the new class of lifeboat.
He added: "The Shannon is a revolutionary vessel, quite different to our current lifeboat, and the volunteer crew at Scarborough are very much looking forward to receiving her on station."
Frederick William Plaxton, who was known as Eric, left money to the RNLI at Scarborough on his death in 1995.
The legacy was specifically to help fund the next all-weather lifeboat needed by the resort.
The lifeboat will be named after Mr Plaxton's father, also called Frederick William, who founded the family coach building firm in 1907.