York fire station land sale approved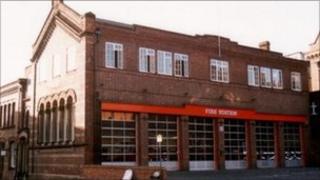 Plans to sell a car park in York as a site for a new fire station have been approved.
The city council backed plans to sell the Kent Street car park to North Yorkshire Fire and Rescue Authority.
Fire chiefs believe the existing station in Clifford Street is no longer viable.
The proposed move was criticised by a conservation group and a Green councillor who say it could lead to increased fire risk in the city centre.
The fire service said its current premises are too small, have inadequate training facilities and are liable to flooding.
Concerns over the proposed move are based on a plan to locate just one fire engine at Kent Street compared to the two currently at Clifford Street.
An extra appliance would instead be sited at Huntington on the outskirts of the city.
'Service reduction'
Green Party councillor for Fishergate, Dave Taylor, said the council should refuse to sell the land unless the fire service guaranteed to site two fire engines and a turntable ladder there.
Mr Taylor added: "This move means a reduction in service for people living in the city centre and to the south and east of York."
Representatives of the York Civic Trust said they feared the relocation of equipment and crews could increase the fire risk to many of the historic timber-framed buildings in the city centre.
But James Alexander, Labour leader of the council, said: "I don't think the council is the best organisation to consider the suitability of where fire equipment is located.
"We will though be asking for a 12 month review of the new service operations to ensure the coverage is acceptable."
The fire authority said there would be no change in the number of fire appliances and specialist units available across the city under its proposals.