Roman baths are uncovered in York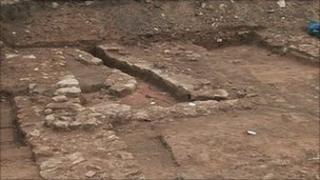 The remains of a Roman bath complex have been uncovered in York.
The baths, which date from the second and third centuries AD, were discovered during construction of a new council headquarters building.
The edge of the complex was first discovered in the 1840s when the original railway station in the city was built on the site.
This is the first time archaeologists have been able to investigate the site since the 19th Century.
Chief archaeologist, Nick Pearson from On Site Archaeology, said the discovery was very significant.
He said: "We know very little of the layout of the civilian town of Eboracum, as Roman York was called. Confirming the location of the baths gives us another important piece of the puzzle."
He said they had been surprised by the standard of the remains as so much of the site would have been destroyed during the construction of the station during the 1840s.
The baths would have served the civilian population of Roman York as the army had its own facilities on the other side of the River Ouse.
Archaeologists hope artefacts uncovered during the excavation will be displayed in the new council headquarters when construction is completed in late 2012.