William Etty: York gallery holds exhibition for artist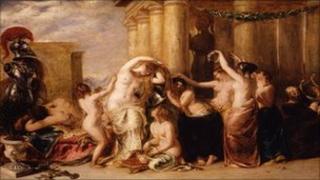 More than 100 works by the York-born artist, William Etty, are to feature in the first major exhibition of his work for 50 years.
The artist attracted controversy due to his passion for the nude which was unusual in the early 19th Century.
The exhibition, which runs at York Art Gallery until January 2012, will feature more than 100 works by Etty.
Paintings for the exhibition have been loaned by the Tate, the Royal Academy and Manchester Art Gallery.
William Etty (1787-1849) initially worked as a printer's apprentice before studying art at the Royal Academy in London.
He was inspired by the Academy's life classes and after travelling extensively in France and Italy found further inspiration in the Venetian Old Masters.
He was eventually elected as a member of the Royal Academy, ahead of John Constable, but his fascination for painting nudes attracted condemnation from many of his artistic contemporaries.
Voluptuous nudes
Many of the ambitious historical, literary and mythological works Etty exhibited at the Royal Academy will be on show alongside articles from journals and newspapers of the period.
This will allow visitors to make their own judgement about the criticism directed towards Etty's art and take their own view about the artist's fleshy and voluptuous nudes.
The exhibition has taken two years to plan with research being carried out by Dr Sarah Burnage, curator at York Art Gallery.
She said Etty was one of the most significant artists of his generation.
"He was described by contemporaries as 'one of the finest specimens of historical talent that the English school has yet produced' and revered for his skills as a colourist."
Dr Burnage added that despite the acclaim he has been marginalised and neglected.
"This exhibition aims to drag Etty's art from obscurity and offer a fresh opportunity to look at the works of this remarkable artist."