Pickering flood defences scheme under review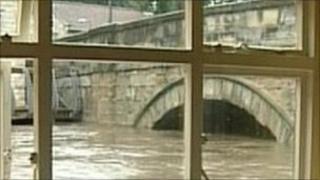 Flood defence experts from the Environment Agency (EA) and a district council are looking at different ways of protecting a North Yorkshire town from future disasters.
A project to protect Pickering was put on hold last week after estimated costs rose from £1.35m to £3.2m.
The scheme involved building flood storage reservoirs above the town, which had suffered repeated flooding.
EA is working on alternatives with Ryedale District Council.
Paul Cresswell, the council's corporate director, said the two organisations had a better understanding" following a meeting.
"I still say there is a lot of disappointment in the council and up to two weeks ago we thought this deliverable scheme was going ahead," he added.
'Higher standard'
"We have more work to do now and we do want to work with the Environment Agency to look at the future."
The Environment Agency's manager for the Yorkshire area, Craig McGarvey, said the shelving of the previous scheme was disappointing.
Mr McGarvey said: "It was within the last few weeks that we had it confirmed that what we wanted to build, we were going to have to build to a much higher standard.
"We knew we had to comply with the Reservoir Safety Act and we knew we had to build it in a high category, but we thought the design standard was much lower."
He added: "We're working as hard as we can...it's not an easy place to build defences, either in the town - that was tried a number of years ago - or upstream."
Mr McGarvey said the agency and council were now looking to see what the £1.3m budget they already had would provide.
He said previous schemes that had been considered would now be reviewed to see if they could be adapted to work for the town.