Yorkshire moorland restoration work 'world leading'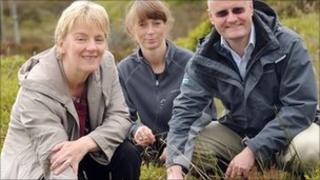 The restoration of swathes of damaged moorland has been described as "world-leading work" by a Yorkshire MEP.
The tribute was paid by Linda McAvan, a member of the European Parliament's environment committee, on a visit to Snailsden reservoir near Halifax.
Peatland around the reservoir had fallen into poor condition, largely due to air pollution, intensive farming practices and wild fires.
But Ms McAvan heard that 30,000 acres (12 hectares) were now recovering.
The peatland recovery is part of Yorkshire Water's moorland restoration programme, which the company began back in 2003.
The work has seen drainage channels, created by local farmers to remove water from moorland, blocked up.
'Valuable' work
That has slowed the flow of water through the land and helped keep the moorland wetter for longer, which is essential for its good health.
In addition, the work has supported the growth of sphagnum moss, boosting the ecosystem and helping to enhance biodiversity in the area.
The project has also boosted peatland reserves in the region, which serve as some of the largest natural carbon reservoirs in the UK.
Ms McAvan said: "The work Yorkshire Water has put into the restoration of the moorland is really valuable.
"By helping to restore peatlands, an increasingly rare habitat that is under threat in other parts of the UK is being protected.
"Protecting peat bogs, which act as a carbon store, is also an important part of our strategy to combat climate change."