Scarborough Grand Hotel vomiting bug investigated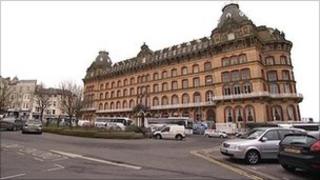 An outbreak of diarrhoea and vomiting among guests at Scarborough's Grand Hotel is being investigated by health officials, it has been confirmed.
Seventy guests were affected by the illness on Thursday and Friday, the Health Protection Agency (HPA) said.
Since then the number of people reporting ill at the hotel had "reduced significantly", the HPA said.
It is working with environmental health officers to discover the cause of the outbreak.
Dr Simon Padfield, consultant in communicable disease control at North Yorkshire and the Humber Health Protection Unit, said: "Information currently available suggests that the cause was most likely to be a viral gastrointestinal infection that spread from person to person amongst hotel guests.
"However, this has not been confirmed at this stage."
"For those affected, the illness has been generally short-lived with the majority now recovering at home, without treatment."
The hotel said no new cases had been reported this week.