North York Moors is new home to rare butterfly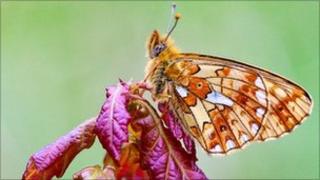 A North Yorkshire national park has provided a new home to a rare butterfly which was feared to be in danger of becoming extinct in the county.
Pearl-bordered Fritillaries are nationally scarce. In Yorkshire the butterfly has survived on just two sites over the past 30 years.
The butterfly disappeared from a third site in 2002 and since then work has been under way to stop further losses.
Conservationists have been working with the North York Moors to protect them.
The park authority and Butterfly Conservation have been working to create the right conditions for the butterfly to re-colonise on a third site.
A team of volunteers have been regularly attending a site to clear dense areas of bracken and scrub, restoring the habitat to suit the butterfly's needs.
Five of the species have since been seen in an area of the park where they had previously been unrecorded.
Sally Weightman, from the North York Moors National Park Authority, said: "We're very pleased to hear that such a rare butterfly is doing so well on the moors.
"We had hoped that the scrub control work would result in providing favourable habitat conditions encouraging the butterfly back to the site and so we are very glad that the butterfly has been spotted here at last."