Bellringers locked in Sharow church tower over noise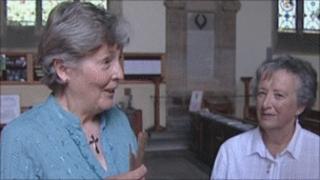 A group of touring bellringers were locked in a North Yorkshire church tower by an irate villager who took exception to their noise.
The team had travelled from Oxfordshire to play the bells at Saint John the Evangelist Church in Sharow on Sunday when they became imprisoned.
The mystery man climbed the staircase to the belfry before shouting at them and lodging the door shut with wood.
They were rescued after stamping their feet, which was heard by a villager.
Church warden Rosemary Triffitt said: "We have a very fine ring of eight bells at Sharow and a lot of people come from far and near to ring them.
"This particular group are of a very high calibre... they were determined to get their peal but two thirds of the way through an angry resident I assume marched up all the steps up to the ringing chamber and shouted abuse at them.
"They continued with their peal and locked them in the ringing chamber... after the three hours they realised they couldn't get out."
Resident Ruth Grenfell said the incident had upset the village community.
"We really do like to think of ourselves as a warm welcoming church. The church is open every day, it's a friendly village in a lovely setting and we've never known anything like this."
Ms Grenfell said no-one knew who the culprit was.
She said: "We have no idea. People have occasionally complained about bellringing.
"I would have thought if you live near a church you might think 'church, bells, seems to make sense to me' but obviously someone wasn't happy."
North Yorkshire Police said the force had received a complaint from a resident but because no formal complaint had been made by the bellringers, the incident was not being investigated.
A spokesman said police were called shortly after 1800 BST on Sunday with reports that a group of visiting bell ringers were approached by a man at about 1600 BST.
"He was allegedly shouting abuse at the ringers and allegedly made threats to damage their cars," he said.