'Phenomenal' lifeboat fundraiser honoured by Duke of Kent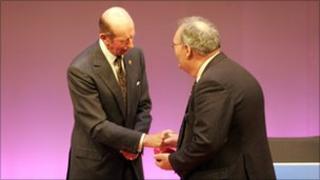 A fundraiser believed to have raised about £200,000 for the Royal National Lifeboat Institution (RNLI) has been given a special award by the charity.
John Porter, from Scarborough, has been a volunteer with the RNLI for more than 30 years.
He has been given the charity's gold badge for his long service and commitment.
Mr Porter received the award from the RNLI's president, the Duke of Kent, at a ceremony in London.
Louise Barth, RNLI fundraising and communications manager, said: "As well as being an operational volunteer for more than 30 years and currently serving as deputy head launcher at Scarborough lifeboat station, John is a phenomenal fundraiser."
'Well deserved'
She said Mr Porter had personally raised at least £200,000 for the organisation over the last 30 years.
Mr Porter said: "I was delighted to get the award and very honoured. I've been all over the North of England and it's great to meet the public, who are so supportive of the RNLI."
"It really is a privilege to be able to represent the charity in this way," he added.
Ms Barth described Mr Porter as dedicated to the cause of saving lives at sea. She added: "I am delighted that he has been recognised by the Duke of Kent at our annual awards - his award is extremely well deserved."