Man's 66 ultra-marathon challenge is completed in York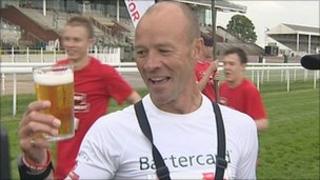 A man who set out to run 66 ultra-marathons in 66 days has completed his challenge in York.
Andy McMenemy from Harrogate crossed the final finish line at York racecourse on Friday in six hours, 15 minutes and 12 seconds.
He ran 50km (31 miles) in 66 UK cities, for the Soldiers' Charity.
He has so far raised more than £60,000 for the charity and celebrated completing the challenge with a pint of beer on the finish line.
He said: "[I'm feeling] absolutely fantastic. This has been an absolute privilege to be able to do this.
"I don't take anything for granted, physical health or mental health, but the Soldier's Charity have deserved every single step I've run.
"There's been times when I've been digging really deep and looking for that inspiration, I've just been thinking about what they're [injured soldiers'] going through, and they need our help for the rest of their lives and if I can do my bit then I feel very, very proud."
Throughout the challenge, which started in Leeds on March 16, Mr McMenemy said he took "one day at a time".
"I think of it like doing manual labour for six hours a day. I think about people like Ben Parkinson, who has to do six hours of physiotherapy every day just to be able to use his new legs. If Ben can do that surely I can go out and run for six hours a day."
Challenge66 involved Mr McMenemy completing one ultra-marathon in each of the UK's 66 cities on consecutive days.
He is also waiting for confirmation from Guinness World Records that he has broken the world record which currently stands at 52 ultra-marathons in 52 days.
A conventional marathon is just over 26 miles (42km).