Extra cash for Pickering flood control plan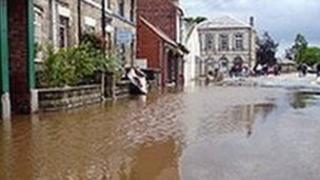 A project to control flood water before it affects a North Yorkshire market town has been given a cash boost.
Pickering, close to the North York Moors, has suffered from the effects of flooding several times since 1999.
A scheme by the Department for the Environment, Food and Rural Affairs started in 2009 to use trees and floodplains to store and divert heavy rainfall from the town.
Now the scheme has been given a further £235,000 to protect the town.
A spokesman for Defra said the aim of the scheme was to "store, divert and slow the flow of excess water rather than relying on traditional defences".
The project includes planting more trees, restoring wetlands, building natural dams in streams and reducing water run-off from fields.
Floodplain woodlands
The aim is to reduce the amount of flood water reaching the town during periods of heavy rainfall.
Defra said the £235,000 would pay for the co-ordination, monitoring and evaluation of the next stage of the project which would include the creation of floodplain woodlands along with the building of more natural dams and earth flood banks.
Environment Secretary Caroline Spelman visiting the town on Thursday said: "The extra funding will help ensure that the risks of flooding in Pickering can be reduced and means we can continue to test this innovative new approach to flood defence.
"The evidence we collect from this project will be vital in guiding future flood protection plans for other communities."
A spokesman for Pickering Town Council welcomed the extra investment and said it would benefit the town.