Olympic torch set for overnight York visit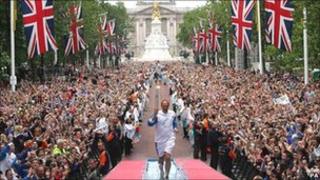 The Olympic torch is to visit North Yorkshire as part of a 70-day tour ahead of the 2012 Games.
It is set to stay overnight in York on 19 June 2012 on its journey from Land's End, Cornwall, to London's Olympic Stadium.
The torch's six-day tour of the Yorkshire and Humber region has been welcomed.
Kersten England, City of York Council chief executive, said it was an "honour" for the city.
Organisers of the Games said the torch would travel 8,000 miles around the UK before reaching the stadium on 27 July.
'Great backdrop'
Ms England said: "This is a great honour for the city, the torch brings with it the spirit of the Olympics, a celebration of excellence that reaches out to all sections of the community.
"We will be working with partners across the city to ensure we make the most of this visit.
"York is such a great backdrop with the Minster, the rivers, the Shambles and the city walls.
"We want as many people as possible to apply to be torch bearers in the city and challenge them to think of unusual ways to transport the torch around the city."
She said it would be "wonderful" to see as many different modes of transport used on the torch route as possible.
Gary Verity is chief executive of Welcome to Yorkshire and chairman of Yorkshire Gold - the organisation responsible for promoting the Olympic games in the county.
'Once-in-a-lifetime'
Mr Verity said: "Hosting the torch over six days in Yorkshire and Humber is terrific news.
"I urge everyone to play their part in making sure we make the most of this once-in-a-lifetime occasion."
Local residents have also been asked to get involved in the torch relay as either torch bearers or entertainers.
The London Olympic Committee said it wants to find 2,012 "inspirational" people to carry the torch and is accepting nominations on its website.
Residents are also being asked to "animate" the route through York with entertainment and should visit the councils website if interested in finding out more.
Lord Coe, chairman of London 2012, said: "The Olympic flame will shine a light right across every nation and region of the UK and showcase the very best of who we are and where we live."