Police chief Grahame Maxwell should go: York council leader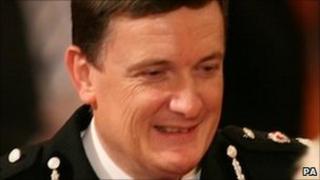 The new leader of City of York Council has said the Chief Constable of North Yorkshire Police "should go" after admitting gross misconduct.
Grahame Maxwell was given a final written warning after he helped a relative in a recruitment drive.
Labour leader James Alexander said it was a "kick in the teeth" for police officers facing redundancy while Mr Maxwell maintained his position.
The police authority said a written warning was the best course of action.
'Losing their jobs'
Mr Alexander, who will officially become leader of the council at the end of the month, said: "It's very surprising and shocking that someone who has admitted gross misconduct and in effect admitted to being dishonest is leading our police force.
"The Labour group is going to write to the police authority expressing our concern at this.
"The police authority may back Grahame Maxwell but they're also backing the members of their police force who are actually losing their jobs and I think it's going to be a real kick in the teeth for some of those police officers."
The Conservative MP for Selby and Ainsty, Nigel Adams, said the chief constable should "lead by example" but the decision remained with the authority and was "not a witch-hunt".
In a statement, the police authority said its role was to "secure an efficient and effective police service".
"We are mindful that a panel of four senior eminent independent people who were in the possession of the full facts and with the whole range of sanctions at its disposal, including dismissal, decided that a final written warning was the appropriate way of dealing with this."
'Business as usual'
The authority said it acknowledged the events had "undermined public confidence" but it was necessary to consider "organisational stability" when the service was making budget cuts.
The police authority and the Independent Police Complaints Commission were involved in Mr Maxwell's hearing, which was told that during a recruitment drive Mr Maxwell assisted a relative through the first stages of the process.
He admitted helping a member of his extended family and a relative of his Deputy Chief Constable, Adam Briggs, who appeared at a hearing in December and was given "management advice".
In a personal statement, Mr Maxwell said: "I would like to reaffirm my deep and sincere apology to the residents of North Yorkshire, my officers and my police staff.
"I want to reassure the public of North Yorkshire and the city of York that it is very much business as usual."