Chief Constable Grahame Maxwell warned over nepotism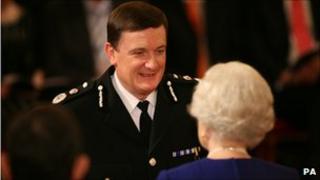 North Yorkshire Police's chief constable has been given a final written warning after admitting disreputable conduct.
Grahame Maxwell helped a relative gain unfair advantage in a police recruitment drive for 60 jobs.
A hotline received 200,000 calls - but it was found Mr Maxwell helped a relative bypass the busy phones.
The police authority and Independent Police Complaints Commission (IPCC) were involved in the hearing.
The IPCC said Mr Maxwell admitted assisting a member of his extended family and also a relative of his Deputy Chief Constable, Adam Briggs.
Mr Briggs was found at a hearing in December to have helped a relative get a job during the recruitment exercise when he received "management advice".
IPCC Commissioner Nicholas Long said: "The Chief Constable and his deputy are the two most senior officers in the force and are supposed to lead by example and set the standards for others to follow.
"They chose to circumvent systems... while others were expected to follow the process.
"Chief Constable Maxwell's initial defence was his actions were 'direction and control' - essentially saying he could do what he wanted because he was the Chief Constable.
"That is an unacceptable attitude from such a senior officer."
Mr Long said that neither Mr Maxwell nor Mr Briggs disputed the key parts of the evidence against them but had questioned the abilities of IPCC investigators during the inquiry.
Mr Long said: "The IPCC at various stages has been accused of disproportionality.
"We have been challenged by some senior policing figures and our investigators' abilities were questioned by the Chief Constable in an unacceptable attempt to discredit the investigation."
'Spurious legal remedies'
North Yorkshire Police Authority accused Mr Maxwell of "pursuing spurious legal remedies and unsustainable arguments in his defence" to avoid a disciplinary case.
In a statement, it said it was "perhaps regrettable" that Mr Maxwell had not pleaded guilty to the gross misconduct charge six months ago and therefore avoided "organisational and personal turmoil and unnecessary cost to the council tax payer".
Lawyers for Mr Maxwell confirmed he had received a final written warning to remain in force for 18 months and "accepts that his conduct has been discreditable to the force and amounts to gross misconduct".
A statement issued by the legal team said he had "admitted an allegation that he had breached professional standards and thereby brought discredit upon and undermined public confidence in the police service".
It said Mr Maxwell had at no time "intended to breach" professional standards and did not "intend to confer any improper advantage on another person."
"He is sincerely sorry and saddened that a very difficult week resulted in errors of judgment, but continues to lead the North Yorkshire Police and wishes only to focus on doing his best for the force in his position as its chief constable."
Manning the phones
The police campaign hit the headlines when more than 200,000 people tried to get through to apply for 60 jobs last year.
Mr Maxwell was filmed manning the phone lines himself but the volume of calls caused the phone system to crash and many potential applicants complained they could not get through.
He became North Yorkshire's chief constable in 2007, joining from South Yorkshire Police, where he had been a deputy since 2005.
He is thought to be the first chief constable to have faced gross misconduct charges in more than 30 years.