Yorkshire Dales smartphone app unveiled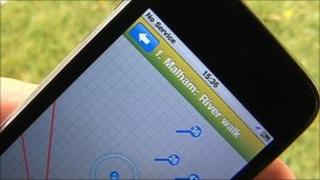 Yorkshire Dales national park officials are hoping to lure a new generation of walkers to the area by unveiling a smartphone app.
The app includes walking and cycling routes and maps, audio walk trails, 360-degree panoramic views and a live GPS locator.
The national park authority believes it is the first of its kind in the UK.
Currently only available on iPhone, it is hoped the app will eventually appear on other devices.
Karen Griffiths, the park authority's interpretation officer, said: "The app contains a pool of pop-up info about the national park, concentrated around Malham and Hawes, but with some general stuff too.
"It means you can use GPS on your smartphone to explore the national park and it will alert you to points of interest - archaeology, history, scenery, landscape."