North York Moors fire week after alert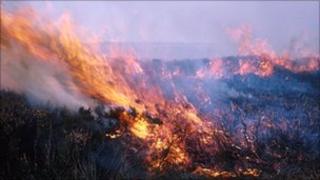 Firefighters have tackled a large blaze on the North York Moors less than a week after the national park was put on fire alert because of the dry weather.
More than 20 firefighters were called out to a fire covering about a hectare (2.5 acres) of moorland at Fylingthorpe near Whitby late on Monday night.
They were forced to pull out for their own safety when the fire affected an area close to a ravine.
Crews returned at daybreak on Tuesday to continue tackling the fire.
'Tinderbox' conditions
A North Yorkshire Fire Service spokesman said no buildings were in danger and the cause of the fire was not yet known.
Last week, North York Moors national park officials warned that "tinderbox" conditions had put vegetation and wildlife at risk.
Bernie McLinden, head of park management, said: "Moorland fires at this time of year can be particularly devastating as birds, such as lapwing and curlew, are nesting on the ground."
Visitors are being asked to avoid lighting fires and barbecues and to not discard cigarettes, matches or glass bottles including throwing cigarette ends out of car windows.