Husband guilty of Melsonby postmistress murder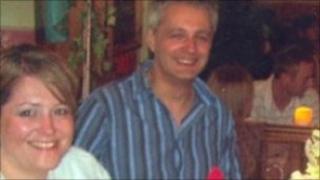 A shopkeeper who beat his postmistress wife to death at their North Yorkshire village store then claimed intruders had done it has been jailed for life.
Robin Garbutt, 45, bludgeoned 40-year-old Diana three times over the head as she slept in the living quarters above Melsonby Village Shop and Post Office.
Garbutt said an armed robber had made him hand over cash and he had gone upstairs to find his wife dead.
At Teesside Crown Court, he was told he must serve a minimum term of 20 years.
Mr Justice Openshaw said Garbutt's lies had been exposed as "pure humbug".
He said he had shown no remorse over his wife, adding: "He has always accompanied his lies with sanctimonious lies of his love for her.
"By their verdict, the jury have exposed this as pure humbug.
"This was a brutal, planned, cold-blooded murder of his wife as she lay sleeping in bed."
Garbutt knew his wife Diana had been unfaithful and feared his theft of thousands of pounds from the post office they ran was about to be discovered.
After inflicting the fatal injuries with a metal bar, he then opened the shop as normal, serving about 60 customers before closing again.
The jury rejected Garbutt's story that a man with a gun told him "don't do anything stupid, we've got your wife" before robbing him as he worked in the shop on 23 March last year.
He had then claimed he went upstairs where he found his wife lying dead in bed.
His story unravelled after officers delved into the secrets of his seemingly happy marriage.
They found the couple had £30,000 in credit card debts and despite working long hours were making little profit in their business.
They were due to go on holiday to the US and Garbutt is thought to have feared a relief postmaster would discover the money was missing.
Police also found out his wife had become involved with three other men.
Garbutt was convicted of murder by the jury of eight men and four women by a majority of 10 to two.
The panel had been deliberating for nearly 13 hours.
During the trial the court was played Garbutt's 999 call to police in which he was crying hysterically and claiming that his wife had been attacked by armed raiders.
When paramedics arrived and told him rigor mortis had already set in, he challenged this, insisting: "She's still warm."
'Deceptive individual'
The judge said Garbutt had planned to kill his wife as she slept.
He said: "There was no struggle, she never awoke.
"He struck three savage blows, smashing her skull and causing her immediate death as clearly he intended."
Garbutt hid the weapon across the road on a wall, then opened shop as normal.
The judge added: "He feigned cheerfulness as he served customers as he attempted to deceive them that all was well."
Speaking after the sentencing, North Yorkshire Police's Det Supt Lewis Raw, the senior investigating officer, said Garbutt was a "calculating and deceptive individual".
He said: "His actions that morning not only killed Diana, they also devastated the lives of Diana's family and plunged a small, close-knit community into fear."
Speaking outside court, Mrs Garbutt's mother Agnes Gaylor said: "I am not thinking about Robin now.
"I'm not going to let Robin enter my head after today."