Sheffield University plans £9,000 tuition fees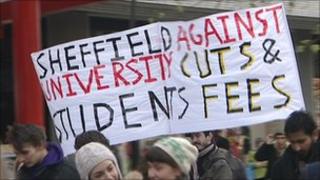 The University of Sheffield has announced plans to charge the maximum £9,000-a-year tuition fees from 2012.
The university said the decision was made "in the context of an uncertain higher education environment".
Vice chancellor Professor Keith Burnett said: "We now face a real challenge not of our choosing, but one which we owe it to future students to accept."
The university said it would also increase financial support to students from £6.7m this year to £10m in 2012.
Thousands of Sheffield University students live in halls of residence within the constituency of deputy prime minister and Lib Dem leader Nick Clegg.
In November, 200 students marched from the university to Mr Clegg's constituency office in protest over tuition fee rises.
Professor Burnett said: "At a time when many sectors of society are feeling the impact of cuts and young people are increasingly concerned about employment and debt, we must effectively deliver and communicate the positive worth of university.
"We will not do this by underestimating what this investment will mean to graduates, but rather by championing an education which is worthy of that investment."
The university's proposals are subject to approval by the Office for Fair Access.