North York Moors park tracks given clearer markers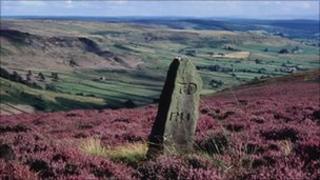 Walkers, horse riders and cyclists using bridleways across vast tracts of the North York Moors will soon find their routes easier to follow.
The national park's authority is to improve the way marking and mow the bridleways which have become overgrown with heather and bracken.
Rangers are concerned that users need clearer paths to avoid straying on to scientifically valuable areas.
So now bridleways and boggy land are being given detailed attention.
'Wilderness feel'
Park officials said the mowing of bridleways would not only act as a clear way marker, but also act as breaks in the ground cover in the event of wildfires.
Senior ranger Naomi Dillon said: "We have received requests from other users to increase the amount of way marking on the high moors.
"Mown paths will provide clearer definition while still retaining a wilderness feel to the landscape.
"In addition, the cut paths will act as a break for wildfires and will encourage users to stay on the right route minimising disturbance to both landscape and wildlife.
A new bridleway across Moorsholm Moor has also been improved.
Deep bogs and narrow channels had formed on several wet areas of the route making it increasingly hard to use.
As a result, a wide area of SSSI land (Site of Special Scientific Interest) was becoming eroded as people tried to pick their way around the wet patches.
Park officials said the work had now meant walkers, riders and cyclists did not need to stray from the bridleways.