Clifford's Tower graffiti: York man charged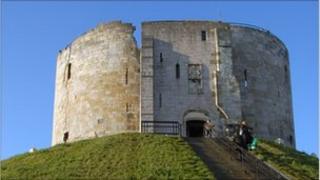 A man has been charged with criminal damage after graffiti was daubed on Clifford's Tower in York, one of the city's most famous landmarks.
The 31-year-old man, of St Mary's, York, was due to appear before the city's magistrates on Wednesday.
He was arrested on Tuesday after graffiti was painted on the wall of the 11th Century castle.
Police said they had received reports of similar damage to the York Crown Court building earlier the same day.