University of York in student data breach on website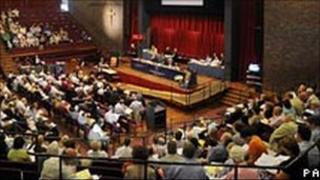 An investigation has begun at the University of York after personal data of 148 students was published.
Information including the students' mobile phone numbers, addresses and A-level results was made available.
The information could be accessed on a student inquiry page on the university's website.
In a statement, the university said it had "taken immediate action to rectify this problem" and had apologised to all those students affected.
Legal action
Following the breach of data last week, the university said a review of its security systems was under way.
The statement, signed by Registrar Dr David Duncan, said: "We are also investigating all procedures and management systems and will undertake a thorough review of our data security arrangements.
"The Information Commissioner has been informed.
"I would like to apologise to everyone who has been affected by this breach."
Tim Ngwena, president of the university's student union, said: "Obviously students are quite concerned because you trust the information that you provide, when you apply to any institution, to be held safely much like anyone would expect when applying for any job."
If found to have violated the 1998 Data Protection Act, the university could face a fine or legal action.