Alan Bennett says library closure plan 'child abuse'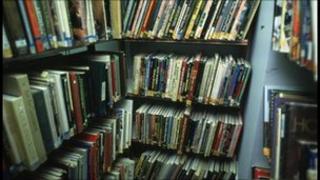 Playwright Alan Bennett has said closing libraries in North Yorkshire would be tantamount to "child abuse".
The county council's public consultation over plans to shut 18 of its 42 libraries ended on Monday.
Mr Bennett said: "Closing a public library is child abuse really because it hinders child development."
Council director Derek Law said: "I think it's a bit strong. If you ask any families involved in child abuse, they would say it's a strong comment."
The authority needs to save about £2m from its library budget over the next four years following government cuts.
Currently there are 42 branch libraries, 10 mobile libraries and one super-mobile, equipped with internet technology.
The council has proposed concentrating services on the 18 main libraries and two super-mobile libraries.
The smaller libraries would close unless the community was willing to take them on.
'Closures avoided'
Earlier this month the authority agreed to establish a £650,000 fund to create more time for libraries to remain open and for communities to come forward with suggestions.
That consultation has ended and the authority will now work through responses.
Leeds-born Mr Bennett said closing libraries would affect children's learning.
"It delays their capacity to read and learn and once that damage has been done it can't be undone."
Mr Law, the council's corporate director of adult and community services, said they were doing everything to avoid closures.
"I don't want to see libraries close, I want to find local solutions that will make them sustainable.
"Sadly, the financial state we're in means we've got to find creative and imaginative solutions because things can't stay the same and that's what we're trying to do, but we're trying to avoid at all costs closing libraries."