Harrogate Theatre at risk over council cuts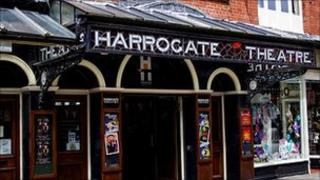 Harrogate Theatre could be forced to close because of an 85% cut in funding from North Yorkshire County Council.
It means the theatre could lose £53,000 a year from April - accounting for 20% of its total funding.
Theatre chief executive David Bown said the cuts could potentially have a "devastating" effect on funding provided by other bodies.
The county council said it needed to make £57m savings over the next two years as a result of government cuts.
Mr Bown said: "Whilst it's not going to close immediately, it will have quite a detrimental effect and could have quite a devastating effect with our other funders if they decide well why should we put money into it if North Yorkshire don't find any value in it."
The chief executive criticised the Conservative-run county council for the level of the proposed cuts and said at a consultation with the council last year that art providers had agreed anything above a 10% reduction would be "crippling".
Conservative councillor Jim Clark said he was "very concerned" by the "draconian cuts".
Council decision
Mr Clark, who is also chairman of Harrogate Theatre, said: "Harrogate survives on business and business tourism.
"The trouble is people are saying it's about culture, it's about arts. It's not about that at all. It's about a much wider agenda, it's about the future of business in Harrogate, it's about the future of our young people."
North Yorkshire County Council said a decision on funding would be made at a meeting on 16 February.
David Bowe, the authority's director of business and environmental services, said: "The county council is not here to cut services, we're here to deliver services but in these unfortunate circumstances it's far more about protecting those essential services that we provide throughout the community."