Milners lawyer Simon Morgan jailed for stealing £1.4m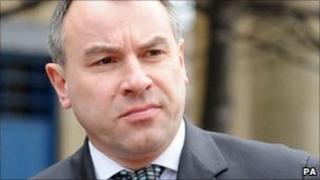 A solicitor who stole £1.4m from his firm to fund a lavish lifestyle has been jailed for seven years.
Simon Morgan, 50, and his wife Ann, an office manager at Milners in Leeds, used the money for holidays, flights by private jet and a deposit on a Ferrari.
Morgan, of Main Street, Bilbrough, near York, was found guilty of theft at Leeds Crown Court two weeks ago.
Sentencing him on Thursday, judge James Goss QC said: "These were offences motivated by greed."
Mrs Morgan, 55, was deemed unfit to stand trial and will be dealt with at a later date.
Judge Goss said Morgan's punishment needed to reflect the damage such cases could do a profession which relied on "trust and honesty".
"These offences... represent a persistent and entirely selfish betrayal of trust of your fellow partners and your staff, as well as clients of Milners," he said.
The couple used a "web of lies" within the office to continue their offending.
At one stage they told colleagues that expensive trips were for non-existent cancer treatment for Mrs Morgan.
The jury was told company cheques paid off the couple's credit card bills run up for hotels, designer clothes and meals at top restaurants.
The stolen funds also paid for a £20,000 family holiday for five to Antigua in 2003 and a skiing holiday for six in the Alpine resort of Courchevel, including a flight to France by private jet from Leeds Bradford Airport.
Morgan and his wife also paid for a private flight to Inverness for a weekend in Scotland.
Simon Myerson QC, defending, told the judge all the money had now been repaid.
Morgan showed no emotion as he was jailed at Bradford Crown Court watched by a number of partners from Milners from the public gallery
Det Sgt Pete Langham, of West Yorkshire Police's Economic Crime Unit, said: "The Morgans' greed and desire for a lavish lifestyle led to others being forced to take a drop in their earnings to make up the deficit in the accounts, showing a clear lack of regard to what effect it would have on others."