North Yorkshire Police's 999 control room 'may be shut'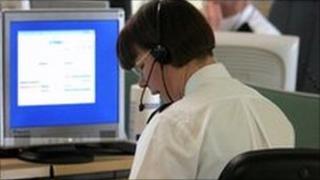 One of the control rooms which handles 999 calls at North Yorkshire Police could be closed as part of cost-cutting measures, it has been confirmed.
The force said it was reviewing its control room provision, with a view to either retaining the existing sites at Newby Wiske and York or closing one.
It is understood up to 100 jobs would be affected if one of the sites closed.
The force said any decision would be based on "maximising efficiency" while continuing "a high-level of service".
The move comes on top of plans already announced by North Yorkshire Police to cut 210 staff posts over the next four years as a result of losing up to £11m in government funding.
'Very worried'
John Mackfall, Unison's North Yorkshire Police branch secretary, said the union was concerned about the effects of any closure on the 999 service.
"We are looking to see how that can be altered to make sure the public don't suffer in the service we provide and also to make sure the staff have their rights and they are fully consulted.
"Staff are very concerned and very worried about their futures."
Assistant Chief Constable Tim Madgwick said: "The issue of control room provision is currently being assessed and consulted on within the force.
"The options that are being explored include retaining the current two control room sites at Newby Wiske and York, or removing one of the two sites.
"As North Yorkshire Police operates a 'virtual' control room, this means there is an in-built flexibility to reorganise the way it functions and where it can function.
"While the consultation process is ongoing it would not be appropriate to go into any more detail at this stage, other than to say that any decision will be based on maximising efficiency while continuing to provide a high-level of service to the public."