York coma case police hunt for laptop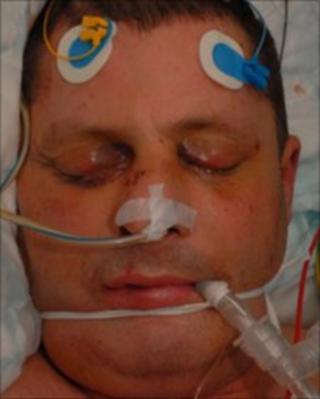 Detectives investigating "a vicious attack" on a man in York want to trace a laptop computer taken from his flat.
Dominic Conlan, 56, was found with serious head injuries at his flat in Partington House in The Groves area of York in the early hours of 8 January.
Police said his injuries were consistent with a weapon being used and he is in a coma in Leeds Infirmary.
Mr Conlan is understood to have been with a number of young people at his flat when an incident took place.
Officers want to find a black Dell laptop computer which belongs to Mr Conlan.
Police in North Yorkshire are conducting an attempted murder investigation following the attack.
Nine people have been arrested in connection with the incident and released on bail.
Eight males aged between 15 and 27, and a 25-year-old woman were questioned by police, who have urged anyone with information to contact them.
Health problems
Mr Conlan had been a successful businessman working in telecommunications in various countries, including America, where he lived for some time after marrying an American woman.
After returning to the UK, he settled in York, where he suffered health problems which prevented him from continuing his business career.
Detectives are also trying to locate a white and green tracksuit top, which could be Adidas.
They said their investigations indicated that someone involved in the incident had run from the flat and discarded it.
Det Ch Insp Nigel Costello, who is leading the investigation, said: "This was a vicious and sustained attack which has left Mr Conlan fighting for his life with serious and substantial head injuries.
"Although we have arrested some people in connection with the attack, this investigation is far from over.
"We know that there were a number of people present at Mr Conlan's flat at the time he was attacked and we need to know who those people are.