Coastal schemes awarded £6m boost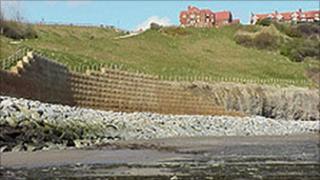 Millions of pounds has been allocated to the Scarborough area to deal with coastal changes over the next four years.
Scarborough Borough Council has been given £6m by the Environment Agency to manage coastal work in the area.
The cash is on top of £3m being spent on coastal projects in the borough.
A council spokesman said it was "a significant slice of funding" that would help communities cope with erosion and coastal cliff instability.
One of the biggest chunks of the funding will be ploughed into the Strategic Coast Monitoring Programme.
Out of the £6m, just over £3m has been allocated to the council over the next five years as the lead authority for all coastal councils from the Scottish Borders to Flamborough Head in East Yorkshire.
The money is earmarked for a number of locations including Whitby, Scarborough and Filey.
Just under £1 million has been allocated for projects in Filey over the next two years.
Ground movement
The Filey Coast Outflanking Defence Study and associated works are estimated to cost just over £500,000, while £450,000 will go on the Filey Coastal Slope Study and cliff stabilisation works.
An investigation into coastal slope ground movement at Flat Cliffs, near Filey, has also been funded, with £160,000 allocated by the Environment Agency.
The northern area of the borough will benefit by almost £500,000 with investment allocated at Staithes and Whitby.
In Scarborough, the main thrust of the work will be on the Spa frontage which the Scarborough Coastal Strategy has decided should be the next priority for capital investment.
The investment will help secure the redevelopment of the Spa complex, a project which is expected to be completed in May of this year.
Environment Agency money is also being used to complete the repair work at the East Pier extension in Whitby, which had to be temporarily suspended due to poor sea conditions towards the end of 2010.
The council's head of technical services, John Riby, said: "The council is optimistic it can continue to work with government departments and local stakeholders to identify the problems and to promote timely and appropriate solutions.
"These will help reduce the risk to people and property along its coastline and to monitor and collect contemporary coastal processes data which build on the knowledge we have and will inform future decisions about possible investment in coastal protection."