Swindling son told to repay mother on day she dies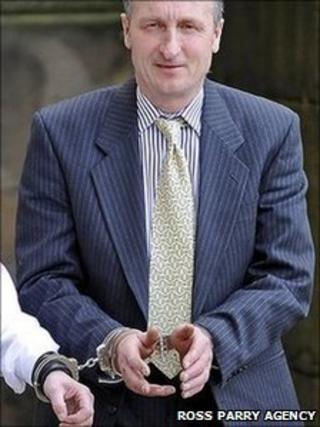 A wealthy widow who was defrauded out of hundreds of thousands of pounds by her son has died - on the day a court ordered him to repay some of the money.
Lady Denys Pain was left "devastated" after her son Michael Pain siphoned off £451,000 from her bank accounts.
The 86-year-old died in a hospice early on Thursday only hours before 53-year-old Pain was ordered to repay £166,000.
Pain, formerly of Eddlethorpe Hall, near Malton, North Yorkshire, was jailed for three years last year.
He had pleaded guilty to theft, five frauds and two offences of obtaining a money transfer by deception at an earlier hearing.
A confiscation hearing was held at Harrogate Magistrates' Court on Wednesday after an investigation by North Yorkshire Police financial investigation officers and Pain was ordered to repay £166,834.
'Betrayed' family
The theft was discovered in January 2009 after Pain's sister attempted to withdraw cash from their mother's account and discovered she was significantly overdrawn.
She reported her discovery to North Yorkshire Police who began an investigation.
If Pain fails to comply with the order within six months, he will face a further two-and-a-half years in prison and will still have to repay the money.
Financial investigation officer Det Con Neil Jefferson said: "This was a complicated case and centred around a man who had betrayed his family's trust.
"Pain had a privileged background and was regularly supported by his family throughout his life.
"He was left in a position of trust with the sole responsibility of taking care of his mother.
"Pain abused that trust in the most callous way, using the money to prop up a failing business and to pay mortgage arrears.
"His mother, who sadly passed away this morning [Wednesday], was left devastated by his betrayal. The rest of his family were left horrified.
"We hope today's confiscation order gives the Pain family some comfort knowing that justice has now come full circle and at least some of the stolen cash will be repaid."
Pain's sisters trusted him to look after their mother when her husband and their father, Lt-Gen Sir Rollo Pain, died in 2005, York Crown Court heard.
Sir Rollo was awarded the Military Cross for extraordinary bravery in repelling a night-time attack by 100 enemy soldiers in the village of Stemmen, Germany, in April 1945.