North Yorkshire Police start redundancy consultation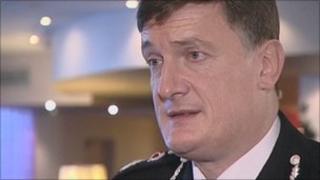 North Yorkshire Police has started a consultation process about staff redundancies.
It comes as the force seeks to cut 210 jobs over the next four years as a result of losing up to £11m in government funding.
The police authority approved a measure last month to force officers with more than 30 years of service to retire.
Talks will take place with unions during the 90-day consultation and then staff will be informed of changes.
Chief constable Grahame Maxwell, who is leading the change programme, said: "The decision to make hard-working and dedicated members of police staff redundant is one that I had never wished to make. It certainly is not one that has been taken lightly.
"However, along with every other public sector organisations in the country, we find ourselves in unprecedented financial circumstances which has left us no option but to reduce staffing levels as part of our wider plan to balance the budget come 2014/15.
"I realise this is going to be a very difficult period for everyone concerned.
"I can give my assurance that the redundancy process and restructure will be handled sensitively and professionally."
North Yorkshire Police said staff and police officers were being kept up to date on the situation.