Calls to York Samaritans increase in severe weather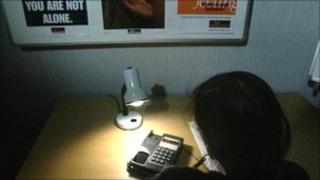 Isolation caused by severe weather in North Yorkshire has led the Samaritans to highlight the plight of elderly or disabled people in the area.
York Samaritans group said it had seen a "significant" increase in the number of calls for help.
And now the organisation is asking neighbours or relatives of vulnerable people to check on their wellbeing.
The York group said it had seen an increase of more than 25% calls it dealt with as severe weather set in.
Paul Moran, of York Samaritans, said: "Obviously the bad weather affects us all, but those unable to get out during the icy conditions suffer the most.
"Those people rely on a regular trip to the local shop or to the surgery for some human contact and losing this can have a big impact.
"People can feel more down during the winter, and bad weather can affect people's mood and outlook too.
"When it's cold and dark, and days pass without seeing or talking to anyone, the phone line to Samaritans is a valuable outlet for many lonely people."
Mr Moran said because of the way the organisation logged its confidential call activity, it was not possible to record exact figures
But he said since the recent spell of extreme weather the York group had seen an increase of more than 25%.
He added: "If we look back at the last spell of severe weather in January, the phone "was ringing off the hook".