York Art Gallery site eyed for new big tourist wheel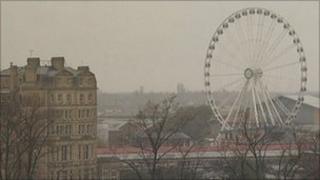 Plans have been announced for a new tourist wheel in York.
The York Museums Trust and operators Great City Attractions want to locate the 60m (200ft) high wheel on derelict land behind the city's art gallery.
A planning application will be lodged with the City of York Council by the end of next week.
The Yorkshire Wheel at York's National Railway Museum attracted 1.2 million visitors from April 2006 until November 2008, when it was dismantled.
If the latest plans are approved the new wheel will be in place next year.
Some of its profits would go to the museums trust, which would put the money towards a planned £6m revamp of the art gallery.
The city council has previously rejected plans for a tourist wheel on other sites in the city, saying such an attraction had to be sited "sensitively" so as not to "threaten the city's visual heritage".
Paul Kelly, chief operating officer at Great City Attractions, said: "A lot of work has gone into finding sites in York and around the city.
"This is probably the best site we have found.
"It has taken a long time to find this one, there aren't any others on the list, it has to be said."