RSPCA loses £2m North Yorkshire farm will appeal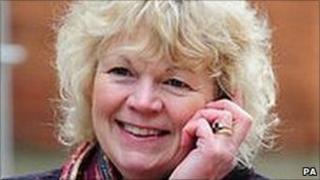 The RSPCA has lost a legal challenge to a ruling which overturned a will leaving the group a £2m estate.
Christine Gill, 59, of Northallerton, won a High Court battle last year to overturn the will, which left her parents' farm to the charity.
Judge James Allen QC found that Dr Gill's "domineering" father had coerced her mother into making the will.
Judges dismissed the appeal and said they would give reasons at a later date.
The case was heard by the Master of the Rolls, Lord Neuberger, sitting with Lord Justice Lloyd and Lord Justice Jackson.
In a statement released by solicitors Mishcon de Reya, Dr Gill said she was "delighted" by the Court of Appeal decision.
"It was a matter of huge regret and disappointment to me and my family that the RSPCA chose not to accept the original decision, forcing us to endure another court hearing.
"We can now settle back into our lives on the family farm that I love, and which I have dedicated many years to maintaining."
'Bully' father
Judge Allen said it would be "unconscionable" if Dr Gill did not inherit Potto Carr Farm, near Northallerton, where she voluntarily helped out during her spare time over a period of more than 30 years.
Mr Gill died in 1999, aged 82. It was only when her mother died in 2006, also aged 82, that Dr Gill saw the will, in which her parents had left the farm to each other and then to the RSPCA when both died.
The judge found that Dr Gill's mother had wanted her daughter to inherit the farm but Mr Gill - who he described as a "bully" - had exerted pressure over his wife to favour the RSPCA.
In a statement, the charity said: "The RSPCA is disappointed with the outcome of the hearing but respects the judgment of the court.
"We recognise that cases like this are highly emotive, and that individuals can feel upset when a charity is named as a beneficiary in a loved-one's will.
"However, as a charity we are limited in our ability to simply walk away from funds that have been generously bequeathed to us. This is why we felt it was only right to appeal against the findings of the High Court judge in order to honour the testamentary wishes of Mrs Gill."